Hamid Naficy Encomium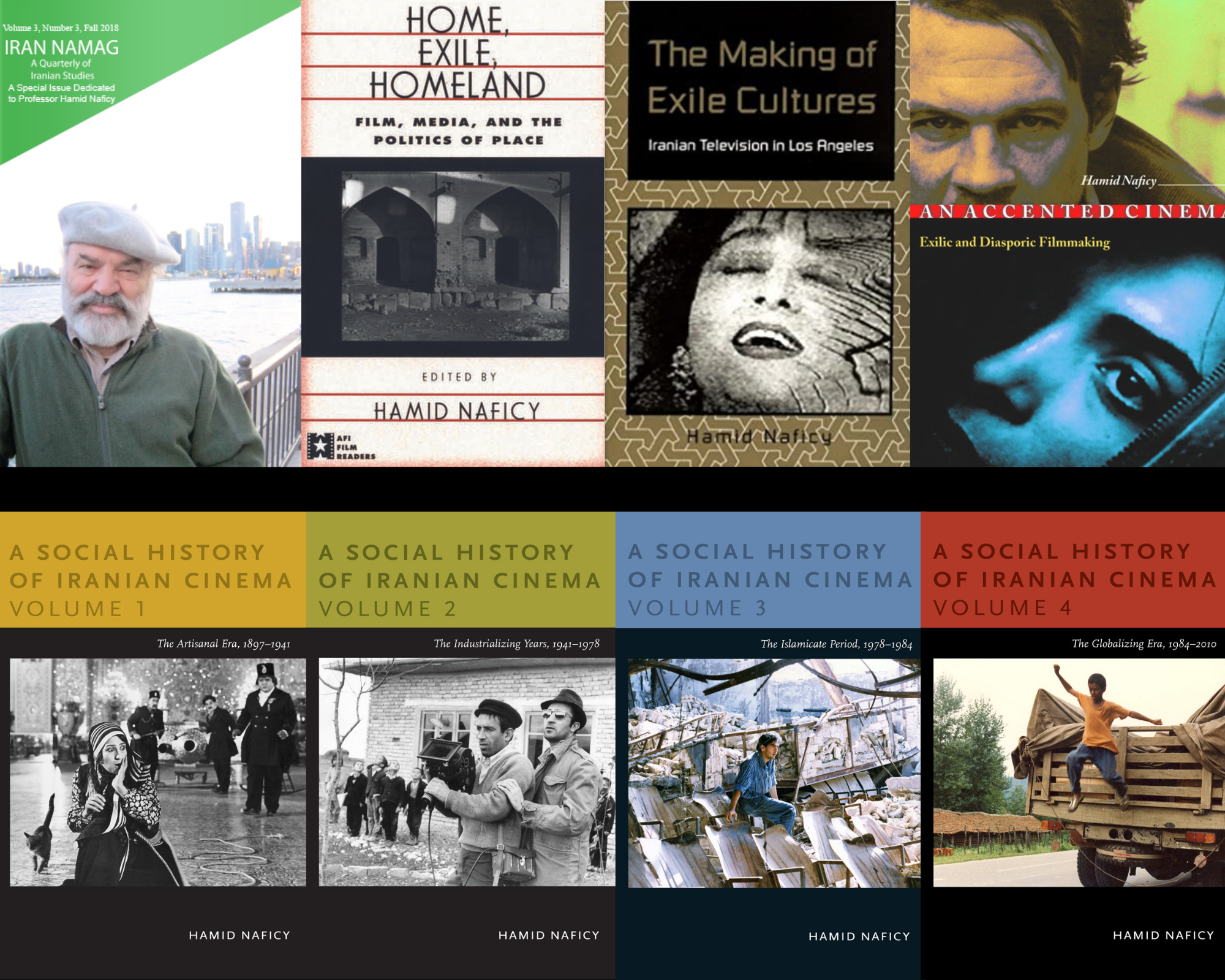 Like Water Through Stone: Celebrating Hamid Naficy's Contributions to Iranian Film and Diaspora Studies
Thursday June 2 — Friday June 3, 2002
Northwestern University, Evanston (Zoom option available for Friday June 3  — REGISTER)
Hamid Naficy, a core faculty member of the MENA Studies Program from its inception and Professor of Radio/Television/Film at Northwestern, is a pioneering scholar of Iranian and world cinema, exile and diaspora studies, media and cultural studies, and global Iranian studies.

His books include The Making of Exile Cultures: Iranian Television in Los Angeles (1993),  Home, Exile, Homeland: Film, Media, and the Politics of Place (1999), An Accented Cinema: Exilic and Diasporic Filmmaking (2001), and the four-volume A Social History of Iranian Cinema, which has been called "a landmark achievement."

On Thursday June 2 and Friday June 3, we are hosting an international gathering to celebrate Naficy's career and intellectual legacies, to honor and reflect on his towering contributions to multiple fields. The gathering will include three panels, a keynote address, film screenings, personal testimonials, and more.

PARTICIPANTS
Narges Bajoghli (Johns Hopkins University)
Simran Bhalla (Tulane University)
Maziyar Faridi (Clemson University)
Dilip Gaonkar (Northwestern University)
Michael M.J. Fischer (MIT)
Persis Karim (San Francisco State University)
Amy Malek (College of Charleston)
Negar Mottahedeh (Duke University)
Eric Patrick (Northwestern University)
Golbarg Rekabtalaei (Seton Hall University)
Ariel Rogers (Northwestern University)
Narimon Safavi (cultural entrepreneur)
Mehdi Semati (Northern Illinois University)
Lynn Spigel 
(Northwestern University)
Mohamad Tavakoli (University of Toronto)
Thursday June 2
This event is free of charge and open to the public, but registration is required to guarantee a seat.

4:30 PM — 5:15 PM
Reception on the
South Lawn
of the 
Norris University Center
(1999 Campus Drive, Evanston). Indoor backup in case of rain: Norris University Center — Louis Room (205).
Location for evening program: Pick-Laudati Auditorium, 
Block Museum of Art
(40 Arts Circle Drive, Evanston)

5:30 PM
Screening of Mouth Harp in Minor Key: Hamid Naficy In/On Exile, a documentary film exploring Naficy's life and work (directed by Maryam Sepehri, 2017)

Keynote address by Michael M.J. Fischer: "Unaccented Hamid Naficy: Cartoonist, Ethnographer, Social Historian of Film, Friend"

7:45 PM
Dinner at Performance Hall (2122 Sheridan Road, Evanston, located on the southwest corner of Haven Street and Sheridan Road)
Friday June 3

Friday's program is free and open to the public. No registration required.

Location:
Hardin Hall, Rebecca Crown Center (633 Clark Street, Evanston)


8:30 AM — 9:00 AM
Continental breakfast
9:00 AM — 9:15 AM
Opening remarks by Rebecca Johnson, Director of the MENA Studies Program
9:15 AM — 10:45 AM
Panel 1: Home, Exile, Homeland: Hamid Naficy & Media Studies
Mehdi Semati: "Being at Home with Naficy's Work"
Negar Mottahedeh: "Electric Voice: Naficy's 'Internet Cinema'"
Narges Bajoghli: "Studying State Media Through a Nafician Lens"
Moderator: Lynn Spigel

10:45-11:00
Coffee break

11:00 AM — 12:30 PM
Panel 2: Lines of Exile: Hamid Naficy & Diaspora Studies
Persis Karim: "Accented Belonging: Hamid Naficy's Work as Foundation for Iranian Diaspora Studies"
Amy Malek: "Memory, Mediawork, and Nostalgia: Naficy on the Iranian Diaspora"
Maziyar Faridi: "Theorizing a 'National Cinema' Transnationally: Notes on Hamid Naficy's Contributions to Studies of Iranian Cinema"
Moderator: Dilip Gaonkar

12:30 PM — 2:00 PM
Lunch

2:00 PM — 3:30 PM
Panel 3: Accented Cinemas: Hamid Naficy & Cinema Studies
Simran Bhalla: "Cinematic Afterlives of the Persianate"
Golbarg Rekabtalaei: "Alternative Visions of Cinematic Modernity: Iranian Cinema through Naficy's Lens"
Mohammad Tavakoli: "Hamid Naficy and the Iranian Cinema Digital Compendium"
Moderator: Ariel Rogers
3:30 PM — 3:45 PM
Coffee break

3:45 PM — 4:30 PM
Screening of Eric Patrick's animated film Lines of Exile and Hamid Naficy's film Salamander Syncope, followed by Q & A

4:30 PM — 5:00 PM
Reflections and personal testimonies
Moderator: Narimon Safavi

5:00 PM
Closing reflections from Hamid Naficy:
"My Personal Allegories"
EVENT CO-SPONSORS:
Middle East & North African Studies Program
Department of Radio/Television/Film
The Block Museum of Art
Center for Global Culture and Communication
This program is made possible by Tamilla Ghodsi (WCAS '91) and Zuleika M. Ghodsi (WCAS '93), whose generous gift established the Iranian American Fund for Cultural Programming.
Back to top