MENA Hosts Artist-In-Residence Hamdi Attia
October 16, 2017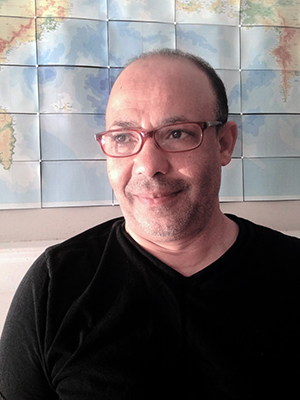 We are deeply pleased to partner with the Kaplan Humanities Institute in hosting Hamdi Attia as an Artist-in-Residence for Fall 2017.
Born and raised in Egypt, Hamdi Attia lives and works in Cairo and Chicago. His work engages an experimental vocabulary, using video and mapping as well as drawings and sculpture. His work has been featured in private and group exhibitions in Cairo, New York, Paris, Rome, Sao Paulo, Detroit, Copenhagen, Zanzibar and Philadelphia. Attia has been commissioned for a number of public works in the Middle East, Europe, and the U.S. He represented Egypt at the Venice Biennial in 1995, taking the top pavilion prize with Akram Al-Magdoub.
"The noble failure of trying to make sense of our contemporary life reproduces itself in art practices, creating a successful platform for anti-idealism," he has said. "Given the tools of this platform, I am simultaneously interested in reconfiguring romanticized socio-political, cultural, or personal products and thoughts by addressing how they diverge and overlap."
Hamdi's residency is co-sponsored by Northwestern's Middle East and North African Studies Program and the Kaplan Humanities Institute.
Please attend these events with Hamdi:
Hamdi Attia in Conversation with Chris Abani 
Monday, October 23, 12:00 pm
Kresge Hall 1-515 (The Forum)
Open Studio: Maps, Politics and Power 
Thursday, November 16, 5:30 pm
Kresge Hall (Room 2-315)
Hamdi is available to visit classes, and the Northwestern community is encouraged to see him in the Kaplan Artist-in-Residence studio in Kresge Hall, Room 2-315. To arrange a visit, please e-mail Rosie Roche, Northwestern Arts Manager.
Back to top