MENA Graduate Wins Fulbright
September 25, 2017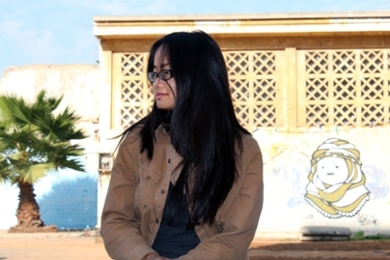 Recent MENA graduate Irene Jiang has been awarded a prestigious Fulbright student grant to Morocco, which she will use to make a documentary film during 2017-18.
Jiang graduated from Northwestern in 2017 with a double major in MENA and Radio/Television/Film. In 2015, she spent the fall quarter in Morocco on a study abroad program hosted by the School for International Training, studying at the acclaimed Center for Cross-Cultural Learning in Rabat. There, Jiang took courses on Moroccan society, pursued training in advanced Arabic, and had the opportunity to do independent field research.
This experience inspired her Fulbright project: a documentary film about Théâtre Nomade, a traveling circus based in Casablanca that incorporates youth from diverse and often marginalized backgrounds into an artistic community.
"My film will explore how these youth form identities and claim creative agency through the circus arts," Jiang explained.
MENA director Brian Edwards called Jiang's proposed project "compelling and sophisticated."
Edwards was one of Jiang's recommenders for the Fulbright. He also was her advisor for the major and teacher in a seminar on the film and literature of contemporary North Africa and the Middle East.
"Irene Jiang models the best of the new generation of student-scholars who have come to dedicate themselves to learning about Morocco," Edwards said.  "Not only is she committed to learning about Morocco, but she is committed to learning from Moroccans and finding ways to communicate that understanding," he continued.
Jiang credits her time in the MENA program.
"I am forever grateful to MENA for the worldview-changing classes I had the opportunity to take and the village of inspiring and invested mentors that shaped me into the scholar and artist I am today," she said.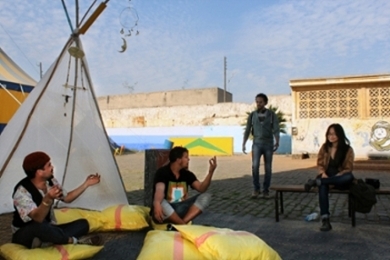 "My decision to major in MENA was one of the best I've ever made," she reflects. "I could not have gotten here without the incredible atmosphere of intellectual curiosity fostered by the program."
Edwards looks forward to seeing the results of Jiang's work in Morocco. "Irene's film has the potential to bridge the gap between the stories that are told about Morocco and those that Moroccans might tell about themselves," he said.
bottom photo: Irene Jiang with members of Théâtre Nomade on a break during a storytelling performance
Back to top