Azadeh Safaeian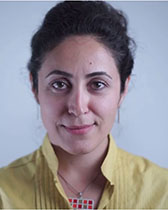 Primary Department/Program: Comparative Literary Studies Program

Began Graduate Studies: 2015
Area(s) of Research Interest: alternative cinematic and literary representations of war in the Middle East, especially from the point of view of women and ethnic minorities
Biography
Azadeh Safaeian is a Ph.D. Candidate in Comparative Literary Studies at Northwestern University. Azadeh's research and teaching interests include trauma and disability studies, postcolonial environmental humanities, animal studies, care studies, and film theory. Located at the intersection of critical trauma theory and disability studies, her doctorate dissertation, "Toward a Minor Theory of Trauma: Literature and Cinema of the Iran-Iraq War (1980-Present)," attends to the discursive and non-discursive representations of psychological trauma and somatic pain. Azadeh's project examines a selection of multiethnic war memoirs, novels, and films and argues that the local and marginalized networks of knowledge and care simultaneously critique the western-oriented theories of disability/trauma and the ideological erasure of trauma in the context of the Iran-Iraq war.
"Toward a Minor Theory of Trauma" intervenes in critical trauma and disability studies, ethnicity and gender studies, and film studies in the context of the Middle East and the broader Global South. This project also highlights an overlooked intersection between the fields of religion and trauma studies by investigating the mechanisms through which a religious ideology both repudiates trauma and simultaneously facilitates the process of working through traumatic experiences in the context of Iran. Furthermore, it relates linguistics to critical trauma studies by highlighting the role of multilingualism and code-switching in the representations of trauma by ethnic minorities. Finally, this interdisciplinary study fosters a new understanding of the relation between the disabled body and film as a medium and prosthesis that contests the central idea of the nation-state in the studies of "third world cinemas."
Azadeh's research has been funded by several fellowships and awards, including the Social Science Research Council's Mellon International Dissertation Research Fellowship (2020-2021) and the American Council of Learned Societies Dissertation Completion Fellowship (2021-2022).
Azadeh has earned an M.A. in Comparative Literary Studies from Northwestern University, a B.A. in English Language and Literature from Ferdowsi University of Mashhad, and a B.S. in Biology from Azad University of Mashhad. She also holds certificates in Critical Theory (Northwestern), Middle East and North African Studies (Northwestern), Searle Teaching Program (Northwestern), and World Literature (Harvard University and University of Tokyo). In addition to her native Persian and Kurdish, Azadeh works in English, French, and Arabic.
Back to top